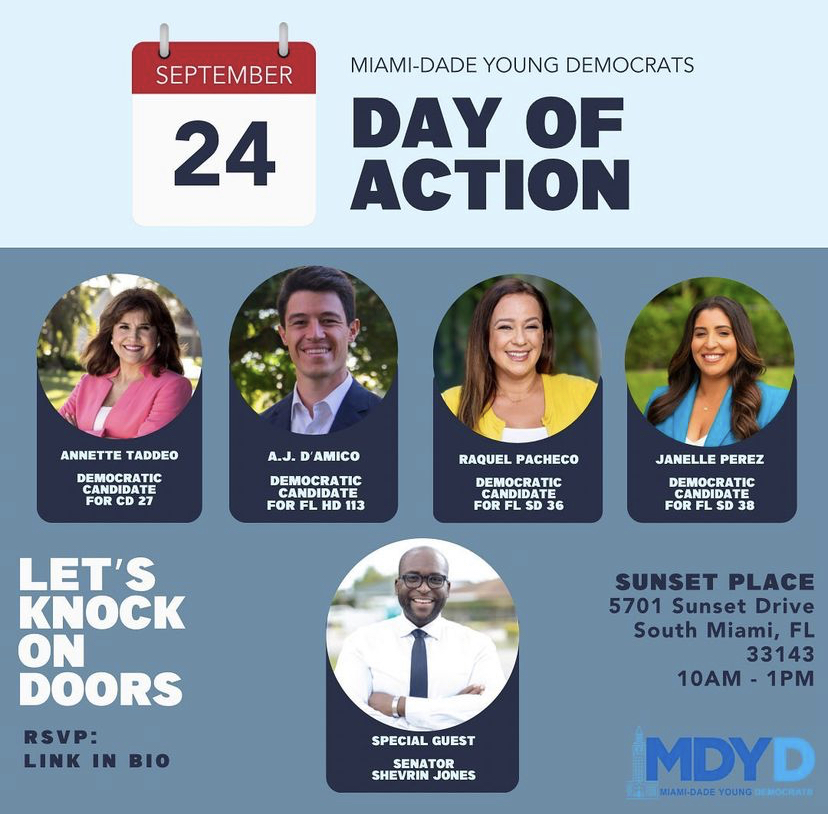 Canvass with AJ D'Amico (State House 113)
Please join AJ D'Amico canvassing!  Saturday, Sept 24 AJ's canvass meets at Annette Taddeo's office at 5701 Sunset Drive, South Miam, FL 33143.
Normally he canvasses every Saturday and Sunday meeting at Regatta Park in Coconut Grove at 9:30. JUST SHOW UP! No Sign Up required.
He writes:
Saturday, September 24 meet at Annette Taddeo's office at 5701 Sunset Drive, South Miam, FL 33143 at 9:30am. other Saturdays meet at Regatta Park in Coconut Grove – 3500 Pan American Drive, Miami, Fl 33133. We expect to be finished by noon.
Suggested attire.
We will be spending time outside, so wear comfortable and cool clothing suitable for walking.  Nice shorts or jeans are fine. Please wear sunscreen.
You will be canvassing Non-Party Affiliate/Independent voters who were active in the 2018 election. This involves making an introduction, sharing a few talking points about me (a brief script is below), and collecting any feedback they share on the app.
My campaign uses the app "MiniVan" powered by NGPVan to canvas. You can download the app ahead of time or I can assist you tomorrow morning. MiniVan will make canvassing easier, showing you voter information in an easy-to-use, map-styled interface.
House District (HD) 113 is quite walkable. I will give you a "List Number" on Saturday morning to upload onto MiniVan. It will show you several doors in the surrounding area for you to canvass. I recommend parking in or adjacent to the area where your doors are and walking. I'll explain more on how to canvass. The lists I made are easy to manage.  I have been canvassing for months and the voters are typically engaged and friendly.
I cannot thank you enough for your help! Every volunteer will make a difference between now and the general election in November. I am excited to get to know our neighbor's thoughts on state government and advocate for a positive, more hopeful politics in Miami and Florida.
Pastelitos, coffee, and water will be provided. Please reach out to me or my campaign manager, Jon Fernandez (305-924-2738) if you have any questions.
All the best,
A.J. D'Amico
t: (305) 898-6484
SCRIPT
Hi.  My name is ________ and I am representing AJ D'Amico, a Democrat running for the Florida House to represent you in Tallahassee. There are important issues at stake that require strong leadership and AJ is a leader with bipartisan support and legislative experience who can bring about positive change in our community and ensure we have a voice in the State House.  He cares about many of the issues you care about, including:
Affordable housing
• Women's rights
Climate change and sea level rise
Accessible health care
Responsible gun control
• Strong public educationAJ is also interested in learning any issues you care about and I am happy to relay any concerns you have to him.   Thank you for your time.